Do you have a small bathroom that needs an overhaul?  Or are you in the middle of building and need some idea's for a small bathroom?  Either way, Showhome Furniture has some great idea's and tips for you to make the most of your small bathroom.
When I was 7 month pregnant with my twins, I was renting a very tiny house and sharing it with my pregnant sister who was 7 months pregnant as well.  I had two kids already, and my sister had three and our husbands were gone all day trying to find work and trying to start a business.  Those were crazy days, and the fact we only had two small bathrooms for all 9 of us (two being pregnant remember. . .you know how a pregnant lady needs that loo!) was interesting to say the least!
At the time, I had no idea how to arrange our bathrooms to fit us all, and house all our stuff.  Seriously our bathroom was a disaster even before one of the kids got a toothbrush stuck down the toilet!!  Now, after decades of being in the furniture business, we are experts at turning that tiny toilet room into a functioning family bathroom.
At Showhome Furniture we have found 7 things that will make your time in the loo, especially a small loo, more enjoyable.
Storage:  Storage in a small bathroom is the number one issue.  Before filling your bathroom with accessories and decor, look carefully at what space you have available to add some storage.  Sometimes you can find space above the toilet, or along one wall where a pretty storage unit can be installed.  Hooks are a great way to get more storage and make the bathroom more functional.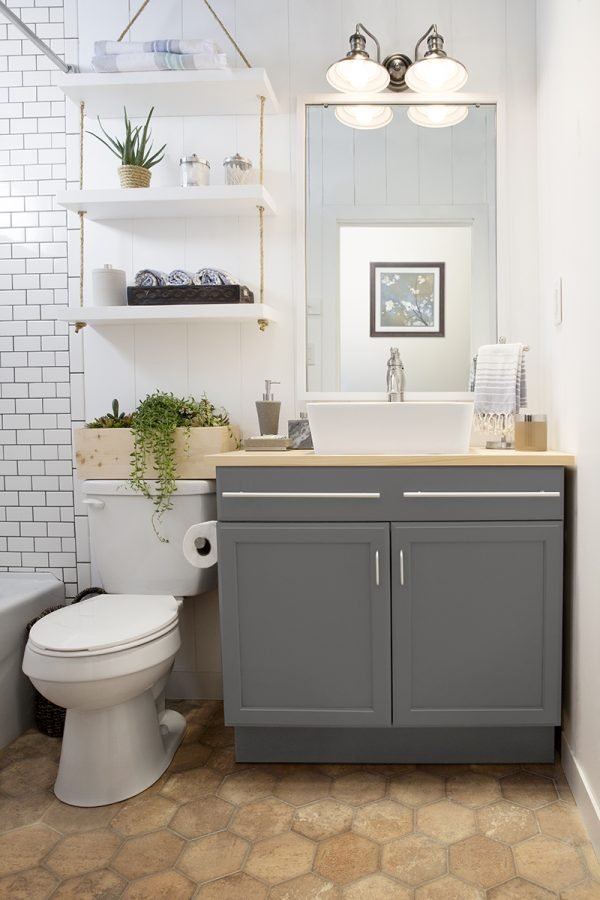 Mirrors!!  Mirrors are beautiful and have the lovely trait of making a room seem larger.  Since your bathroom is going to be a bit cramped anything you can do to give the illusion of size is something you should consider.
Think Big!!!  With such a small space, decorating a tiny bathroom can be very affordable.  You can't fit much in it so think big.  Splurge a little on the mirror, the wall paper, maybe buy a luxurious light, or awesome picture.  Pick a few things that really "Wow!" you and go for it.
Embrace Color!!  In small spaces, bright colors work great.  They catch the eye are fabulous at making your small bathroom seem bigger!  Contrast the color with white for a brighter effect.  This is especially wise when there is no window in your bathroom.
Use a Glass!!  If you can replace your shower curtain with glass doors you will open up the bathroom a ton.  Glass doors are super easy to clean if you keep a squeegie in the shower for occupants to wipe down quickly after each shower.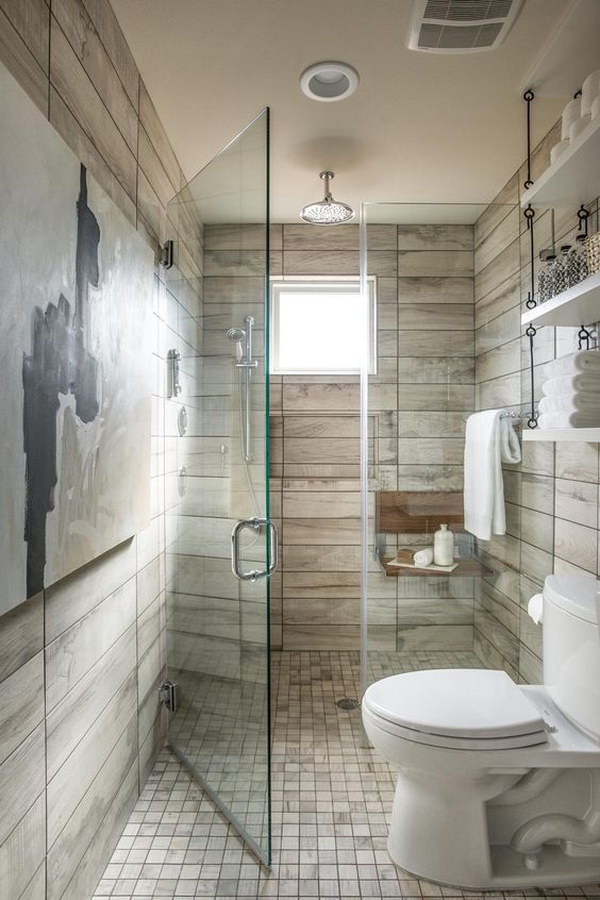 These are some of our most important tips when trying to make your small bathroom function and look beautiful.