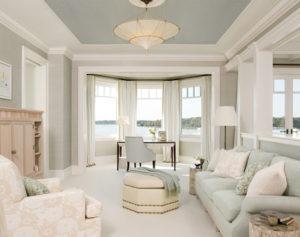 If you have been prowling pinterest, or checking out the web, you will see a ton of posts and picture on "Statement Ceilings"!  In the past people used to do 'statement walls' but this year we are all setting our sights higher!!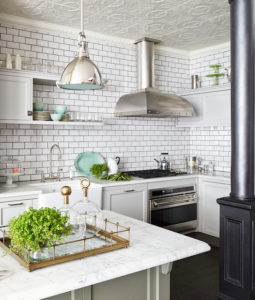 At Showhome Furniture we totally understand the new excitement for creating a ceiling that people can not easily forget.  After all, once the ceiling is done, you don't have to worry about washing it (at least not too often), having it get banged up or scratched.  Unfortunately some of those ceilings, as cool as they look, are not realistic for the majority of us to pull off.
After spending a ton of time researching, we came up with 5 amazing Statement Ceilings that anyone can do.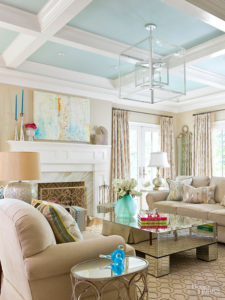 The first is painting your ceiling one color (besides white).  This is by far the simplest way of adding an extra "Wow" to your room.  It makes people look up and feel as if they are in a whole new world, instead of just a normal room with a white ceiling.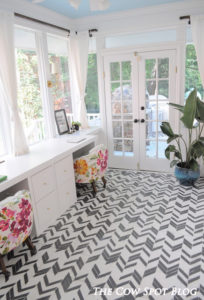 Painting the ceiling one color is great and fairly uncomplicated, but if you want to go a step further, consider painting the ceiling in more than one color.  You can do a simple pattern or more complex stenciling.  Remember that you are painting a ceiling so everything you do is going to be harder than if you were doing it on a wall.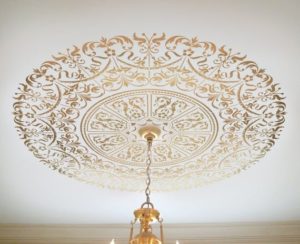 If painting isn't your thing, you can always wallpaper the ceiling!
If you choose to wallpaper you are lucky because there are so many different kinds of wallpaper that the possibilities are endless.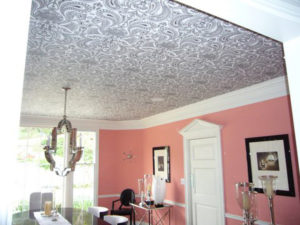 If you are not afraid of doing some simple cuts with wood, covering your ceiling with either weathered barn wood, or new pine is simple, and stunning.
The last idea to add more interest to your ceiling is stick-on ceiling tiles.  They can be pricey, but are so easy to use.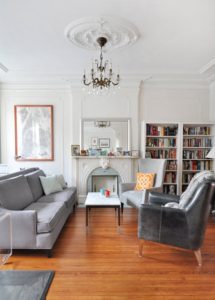 All you need is an x-atco knife, a measuring tape and the tiles.  They are usually made out of light thin plastic that has a sticky back.  My sister did this in a small dining area she had and looked fabulous!