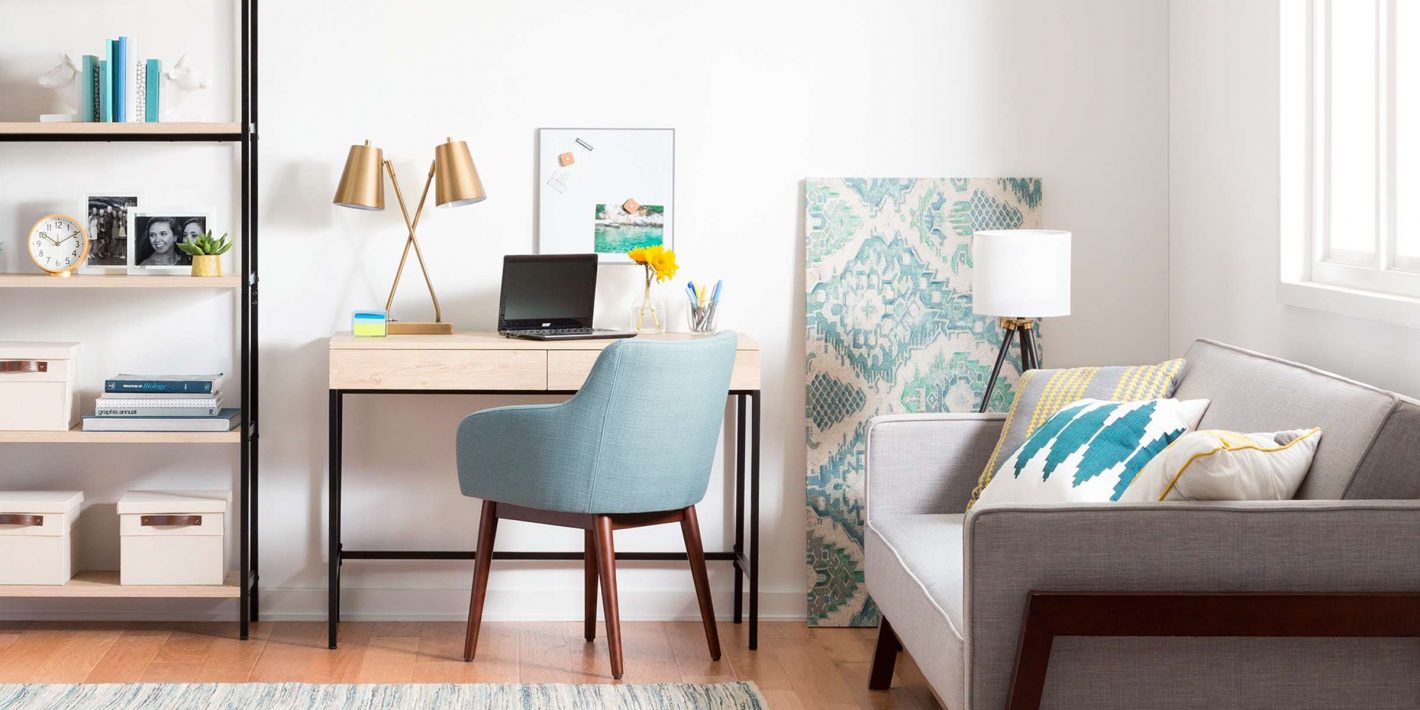 http://myamazingthings.com/small-home-office-ideas/2/
Recently, a staff member at Showhome Furniture in Calgary read that in 2010 there were about 3.6 million people in Canada were lucky enough to work from home.
https://www.facebook.com/ShowHomeFurniture/app/267091300008193/
From someone who has a family business, Showhome Furniture knows how important a space set aside specifically for work is to home workers.  I remember keenly the day my husband moved off the couch of our small rented house and into an old RV he bought to be his office.  The kids thought it was a hoot and I may have rolled my eyes a bit when my sweetheart gave me the tour.  It was small and there were none of the gorgeous desks or decor that we carry in our Calgary furniture store to brighten up the space.  My husband got it for a deal, and it was close to home so we were both happy.
https://www.facebook.com/ShowHomeFurniture/app/267091300008193/
I am sure this 'new office' had nothing to do with the fact we had 2 young kids at the time, and I was about 7 months pregnant with twins.  Or with the fact that my pregnant sister with her 2 young kids were sharing the house with us.  Well, I am actually pretty sure this was the main motivator to my husbands 'move out' but it probably was a wise move.
https://www.facebook.com/ShowHomeFurniture/app/267091300008193/
Now we are no longer renting, and as we renovated our new house we made sure there was lots of room for a home office.
As we designed our home office, and have helped countless of clients with designing theirs,  we came across 4 awesome tips for making your home office work for you!!
Location Matters:  First pick the best location you can think of.  Make it convenient so that it functions well.  We have our home office on the top floor right beside our bedroom.  Most our kids have their bedrooms on the main floor, and so the top floor is the most quiet part of the house.  My brother-in-law has his home office off his theatre room with an outside door for clients to use.  My younger brother has his home office outside on the beach!  So just look at what works for you and go for it.  Don't worry if your office isn't conventional it just needs to be convenient.
https://www.facebook.com/ShowHomeFurniture/app/267091300008193/
Find Beautiful and Functional Furniture:  Next think of the furniture!  At Showhome Furniture we are passionate about helping our clients find the perfect piece for their homes.  A home office deserves as much attention as the rest of the house.  What kind of furniture you need greatly depends on what kind of business you are running.   The most common pieces of furniture pieces are desks, bookcases, and chairs or sofa's.  You might find that you need a large desk and a small bookcase, or if you are like my sister you will want wall-to-wall bookcases and a small desk.  Think of what you will be doing most in this space and shop accordingly.
Buy A Comfortable Chair:  Picking a good chair is so vital that it has a paragraph of it's own!  Sometimes people scrimp on the functional furniture and splurge on the showy furniture.  At Showhome we believe that furniture can be both comfortable and functional and suggest that you are extra thoughtful when picking out what you are going to be spending most of your day sitting on.
Decorate:  Once you have a great location, beautiful furniture and a comfortable chair you are ready to paint your office and decorate it!
When my husband was in the RV, I admit, I did nothing to make it look nice.  I was just happy it was close enough for me to send the little ones over while I napped.  This should not be what you do.  Working is hard.  There are a lot of sacrifices you make staying indoors all day.  Treat yourself kindly and make your home office beautiful.
https://www.facebook.com/ShowHomeFurniture/app/267091300008193/
You might want to make it look more traditional, or modern.  There are a ton of different styles to choose from.  If you are not sure what style you are leaning towards, just pop by Showhome Furniture and our wonderful designers will be happy to help you out for free.
Bring Nature Inside: The last tip that our designers at Showhome Furniture have for you is to bring nature inside!  If possible, I would encourage you to make sure your office has a window.  The bigger the better.  Tons of science supports the notion that nature is a great de stressor.  If you are going to have to be in doors all day, you might as well make the most of it.
https://www.facebook.com/ShowHomeFurniture/app/267091300008193/
Opening the window, having some real plants in your office, hanging pictures of nature and having a great view are all ways that you can incorporate nature into your office space.
At Showhome Furniture, we know the value of a great home office.  Working from home, is not a luxury that most people enjoy.  If you happen to be one of lucky few, we hope that these tips will help you design a great place to do work at home.